Skip to Content
Weber, Davis, Salt Lake, & Utah Counties' Post & Fence Repair Pros
When your post or fence suffers from damage or wear, you need home improvement experts you can count on. For many years, ROCK'N-IT Masonry has provided homeowners in Weber, Davis, Salt Lake, and Utah Counties with post and fence repairs. Our team of highly-skilled professionals puts the same dedication to quality and excellent service into every job, from minor repairs to sizable investments in a home's structure. We know that for your home to last, our standards for materials and workmanship must stay exceptional. Quick fixes and cheap supplies only end up failing in the long-term. That's why we always take the time to ensure that every step of a project is carried out with sharp attention to detail and high expertise in the best methods and practices for beautiful and long-lasting results.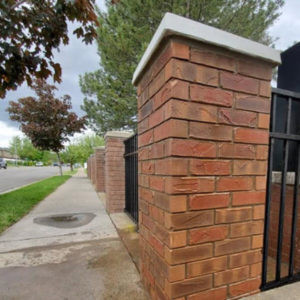 Ensuring Your Privacy & Security
Your fence provides security and privacy for your property, and it can be designed for aesthetic value, as well. The seasons, inclement weather, and fill-in-the-blank incidents can take their toll on your posts and fence, which should be addressed early to make sure isolated damage doesn't grow into more costly and time-consuming projects. There could be issues with crumbling or settling. A passing car could cut a corner too close and accidentally damage a section of your fence or post. ROCK'N-IT Masonry understands that wear and damage are seemingly inevitable and can come from anywhere. To make your life easier and your home secure, we repair and restore your posts and fence with quality workmanship to preserve safety and privacy for you and your family.
Call Us for Guaranteed Satisfaction
You can trust ROCK'N-IT Masonry not to cut corners or leave you with shoddy workmanship. Our team always performs repairs to your posts and fence with a dedication to higher standards for the look, function, and longevity of your property. We also guarantee your satisfaction with any work we do. Give us a call today to get started, and we'll give you a free estimate on your post or fence repairs.
Get a Free Estimate on Your Home Improvement Project