Skip to Content
Fireplace Surrounds in Weber, Davis, Salt Lake & other Utah Counties
Enhance Your Fireplace With Rock'n-It Masonry
ROCK'N-IT Masonry is your go-to source for high-quality fireplace surrounds and mantels. We are a team of skilled masons serving the residents of Weber, Davis, Salt Lake, and Utah counties, and we have been providing top-notch masonry services for many years.
We understand the importance of a fireplace in creating a warm, inviting atmosphere in your home. A fireplace can serve as the central gathering place for your family and friends, and it adds character and charm to any room. But to truly make your fireplace a standout feature, you need a beautiful, well-constructed fireplace surround.
What Are Fireplace Surrounds?
A fireplace surround is a decorative structure that surrounds the fireplace opening and is often made up of a mantel, legs, and a hearth. The mantel is the top part of the surround and is often flat, providing a space for decorations. The legs are the sides of the surround and provide support for the mantel and create a barrier between the fireplace and the room. Lastly, the hearth is the flat area at the base of the fireplace on which the fire is built and can also be used to place objects such as a fireplace screen.
ROCK'N-IT Masonry Offers a Plethora of Fireplace Surrounds
At ROCK'N-IT Masonry, we offer beautiful fireplace stone that surrounds and mantel installations.  We provide stone design ideas, including, natural stone, and sleek modern man-made rock or classic brick. No matter what your style preference, we have a fireplace surround solution to fit your needs and budget. Contact us today to learn more about our fireplace surround options and start enhancing the style and functionality of your fireplace.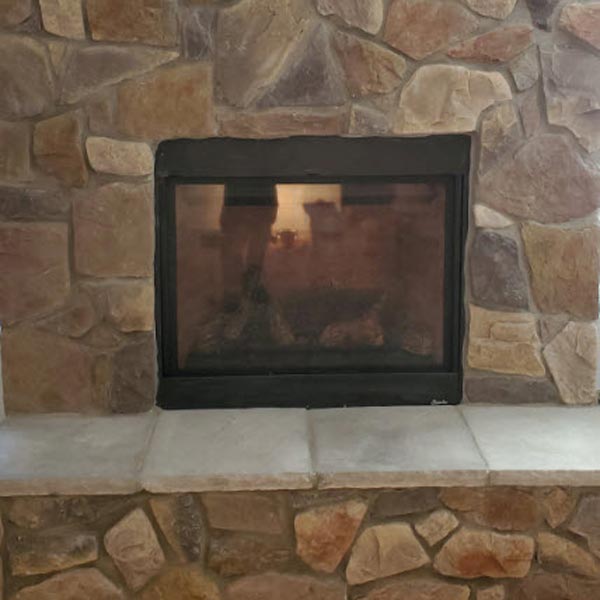 What Are Fireplace Surrounds Made Of?
When it comes to choosing a material for your fireplace surround, you have several options to consider:
Stone — Stone fireplace surrounds are a more durable choice, and they can add a natural, rustic look to your fireplace. Stone surrounds can be made from a variety of materials, such as marble, granite, or limestone.
Brick — Brick fireplace surrounds offer a classic, timeless look and are a durable choice for your home. Brick can be painted or left in its natural state, and it can be arranged in a variety of patterns to suit your style.
Rock — Rock fireplace surrounds bring a natural, rustic feel to your home, and they are a durable choice that can withstand the heat of a fireplace. Rock surrounds can be made from a variety of materials, such as stone or faux veneer, and they can be arranged in a variety of patterns to suit your style.
Fireplace Surround Styles
When it comes to fireplace styles, there are many options to choose from to suit your home's decor and personal style. At ROCK'N-IT Masonry, we offer a wide variety of fireplace surround styles to suit any taste, from traditional to modern. Whether you prefer a classic, wood-burning fireplace with a brick surround and mantel, or a sleek, gas fireplace with a rock surround and floating mantel, we have a style to fit your unique vision and create a truly one-of-a-kind look
Transform Your Fireplace with Our Unique Surround Options
Ready to bring your dream fireplace to life? Look no further than ROCK'N-IT Masonry. Our team of skilled masons has the expertise to design and install the perfect fireplace surround to suit your needs and style. Contact us today to request a free estimate and start enjoying the warmth and ambiance of a beautiful, inviting fireplace in your home.
Get a Free Estimate on Your Home Improvement Project