Skip to Content
Home Inspection Assistance in Weber, Davis, Salt Lake, & Utah Counties
Chimney Issues
Homes in Weber, Davis, Salt Lake, and Utah Counties suffer constant exposure to inclement weather, radical seasonal temperatures, and many other threats to your family's domestic investment and personal comfort. During a home inspection, a professional will evaluate your home to spot any current or potential problems with various structural elements. However, rock, stone & brick walls and other masonry features are best left in the hands of skilled masons with extensive industry expertise. ROCK'N-IT Masonry is proud of our history as local masonry experts serving residents in Weber, Davis, Salt Lake, and Utah County. One useful service we offer for your peace of mind is home inspection assistance. It's important to have your home's brick, stone, and rock inspected by someone with specific knowledge about home masonry, and who better than a seasoned mason? During a home inspection, we can accurately identify problems with mortar, leaning, bulging, voids, and other exterior masonry and chimney issues. Your home will get a detailed evaluation to help you understand the problems, risks, and available solutions.
WHAT WE CHECK DURING A HOME INSPECTION
ROCK'N-IT Masonry makes sure we thoroughly examine your home's masonry to determine any possible brick, stone, or chimney issues that need addressing. We examine the bricks, stone, and mortar for any signs of curving, bulging, problematic cracking, and other issues. Our home inspection assistance covers a variety of surfaces, and the following are examples of the steps we take while we're on the job: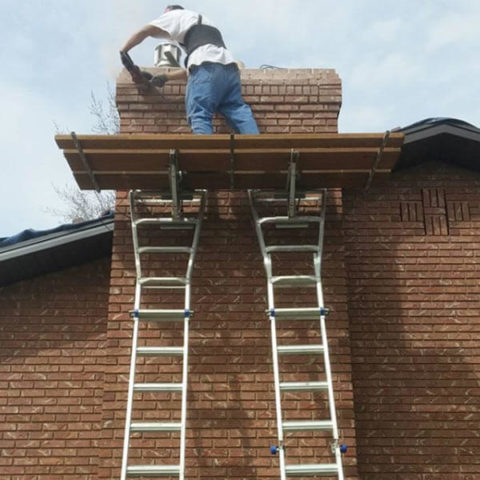 Evaluate Any Cracks – Cracks are inevitable in any masonry structure, as they're typically the result of the material shrinking, moving, or settling. Some more serious cracks include those spanning several brick layers that are over an eighth of an inch wide, which can indicate a structural issue. These cracks can also let moisture in and cause more damage.
Search for Secondary Signs – Seeing cracks in your masonry may indicate problems, but not always. To verify whether you have an issue with your masonry, we look for other subtle signs of foundation shifting. Some of these signs include windows and doors that are hard to open and close, brick walls' interior cracking or bulging, and uneven floors.
Appraise the Mortar – Cracking and deterioration in the mortar can also indicate a problem with your masonry. It's normal to have some cracking, and we can scrape that out and replace it. Problematic mortar in a load-bearing wall can compromise its ability to support your home. Mortar issues can be the result of improperly prepared mortar, substandard installation practices, or even the weather and temperature on the day your masonry was installed.
What are Some Common Exterior Brick, Rock & Stone Issues?
Your home's exterior masonry includes a variety of possible structures, including brick or stone exterior walls, retaining walls, and chimneys. It takes a seasoned professional with specific expertise in masonry to adequately identify any exterior home rock issues. ROCK'N-IT Masonry has ample experience helping with home inspections to ensure your residence is in good condition. When brick or chimney issues do arise, our talented masons can also make repairs. Many potential problems can affect your home's masonry due to earthquakes, rain, moisture & ground settling. Some common issues that can afflict any home with brick, stone, or rock include the following:
Deteriorating Mortar Joints – When the mortar joints are deteriorating, they weaken brick or block structures. They can also be misaligned in a way that the structure is weakened by gravity.
Sealing and Drainage Issues – Improperly sealed masonry surfaces can create problems with moisture by wicking water towards your home's interior. If a brick wall or similar structure's base doesn't have adequate drainage, water behind it can build up and press on the masonry or erode the soil underneath.
Voids in the Chimney – Chimneys that have voids in the masonry are susceptible to letting moisture in an may ultimately collapse. The heat, moisture, and gases can deteriorate your chimney from the inside out as they slip through gaps and cracks.
Curving or Bulging – If your brick wall or another masonry structure shows signs of curving or bulging, this is an indicator of your structure lacking structural integrity, and there could be potentially hazardous shifting.
You Can Count on ROCK'N-IT Masonry
An experienced and knowledgeable mason is your best asset to identify exterior brick and stone issues at your home. ROCK'N-IT Masonry has extensive industry expertise that allows us to accurately spot any problems with your home's masonry, from your exterior brick wall to chimney issues. Let our years of training and service benefit you during your next home inspection. Give us a call today to speak with a member of our staff about scheduling an inspection with our talented masons.
Get a Free Estimate on Your Home Improvement Project