Skip to Content
Stone Mailbox Installation Services in Weber, Davis, Salt Lake & other Utah Counties
BEAUTIFULLY BUILT and or REPAIRED BRICK, ROCK & STONE MAILBOXES WEBER, DAVIS, SALT LAKE, & UTAH COUNTY HOMES
You can elevate the character of your home's exterior with a brick, rock or stone mailbox. ROCK'N-IT Masonry has many years of history building durable and beautiful mailboxes for Weber, Davis, Salt Lake, and Utah County residents. Our highly-skilled masons work on every job, from minor repairs to large-scale projects, with the same expert care and attention to detail. We take the time to make sure that all of our materials and work meet our high standards of quality. That devotion to a superior finished project adds curb appeal to your home with carefully-arranged bricks or stone and neatly-groomed mortar. We build your new mailbox to impress anyone who visits or drives by your house, and we keep our prices friendly to ensure that quality doesn't cost an arm and a leg. We can also repair or tear down your old mailbox and replace with a new brick or stone mailbox that matches your home and also provides more security with a lock box design.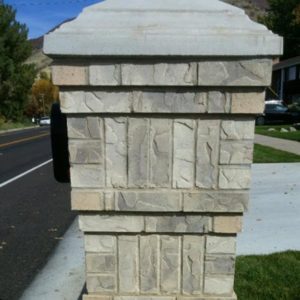 Brick and Stonework Built to Impress
Whether you're building a new house or it's time to replace and upgrade the old mailbox, ROCK'N-IT Masonry's skills and material quality are second to none in the Utah masonry industry. A brick or stone mailbox is one of the first features a passerby or visitor sees when they come by your home. It makes a remarkable impression when it's done thoughtfully and with an artist's eye, which is the only way we do things. We discuss your desires for a new mailbox and make sure it complements the aesthetic of your home. Our top priority is to ensure that the look and quality are up to par with your expectations. You can even customize your mailbox with personal touches like an address block or side flower planter.
We Address Your Needs & Desires
The masons at ROCK'N-IT Masonry always build to fulfill a design that meets your style and budget, and every brick or stone is placed with care and meticulous workmanship. To ensure that you get your money's worth, we guarantee your satisfaction with all the work we do for your project. To get a free estimate on your own brick or stone mailbox, call us today.
Get a Free Estimate on Your Home Improvement Project