Skip to Content
Exterior Home Stone Options in Weber, Davis, Salt Lake, & Utah Counties
What Faux Stone & Natural Stone Options Do We Have? 
The residents of Weber, Davis, Salt Lake, and Utah Counties have been using the expert masonry services provided by ROCK'N-ITMasonry for years. We have several exterior home stone options for you to choose from for your next project and will work with you from start to finish to get you the results you have been dreaming of. When it comes to exterior home stone, you want it done efficiently and correctly. Our team of skilled masons ensures any work or repairs carried out are done with quality and expertise while leaving your home's exterior looking beautiful. You might be wondering "what is a cultured stone?" or "what is an exterior faux stone?" Below, we go into further detail about the exterior home stone options we offer to answer any questions you might have. Reach out to us if you have additional questions about exterior stone options!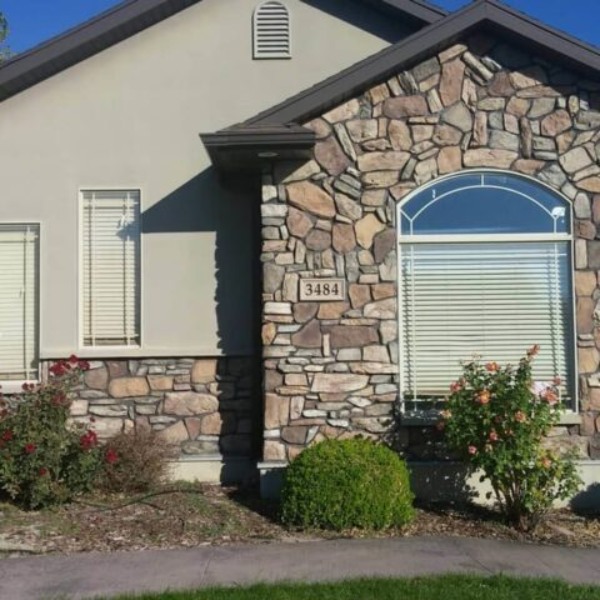 Cultured Stone – Cultured faux stone veneer (or manufactured stone) is engineered to provide the look of natural stone. It is a beautiful byproduct of cement aggregates and iron oxides that are baked in textured molds. Through this process, the veneer stone walls take on a natural stone look without incurring the costs of gathering and transporting real stones, which can be costly. The cement within the veneer stone gives it stability. This type of stone is lightweight, has design flexibility, and is more eco-friendly than other types of stone. Installing cultured stone is also an easier and quicker process, so you can cut days out of the project timeline. You can use this type of stone for interior and exterior projects, including cultured stone fireplace additions.
Natural Stone – Our masons are skilled in working with both cultured and natural stone for exterior home projects. Natural stone, rock, and brick are excellent for building purposes, but give you little choice in size, shape, and weight. The natural stone weighs twice as much as veneer stone and must be placed with great care. It does not cut easily to fit different surfaces, which contributes to it being more costly than cultured stone. Our natural stone options include thin brick, rolled river rock, ridge stone, limestone, granite, among several others. The natural stone also comes in a variety of different colors and is more resistant to fading from the sun.
Check Out These Brick and Stone Home Exterior Ideas   
Our team of skilled masons has worked on several different types of exterior home stone projects over the years. Our customers trust that any stone project we build is done with high-quality building materials and constructed to last. Check out our gallery to see some of the work we've done. Some of the projects we work on include:
Why Choose ROCK'N-IT Masonry for Your Next Project?   
No matter what project you have in mind for your home's exterior, our skilled masons can get the job done. ROCK'N-IT Masonry has served the residents of Davis, Salt Lake, Weber, and Utah Counties for many years, and guarantees your satisfaction with our work. Even if your dream project is small-scale, we put the same skill and care into a minor repair as we do an extensive endeavor. From up-front estimates to showcasing the final product, our team of seasoned professionals will surely meet your expectations and impress you with their top-quality work. Contact us today to schedule your next exterior home stone project!
Get a Free Estimate on Your Home Improvement Project