Skip to Content
Outdoor Living Space Design in Weber, Davis, Salt Lake & Utah Counties
We Provide Custom Outdoor Living Space Design
When the weather is sunny, mild, and inviting, no one wants to be inside. With a beautifully designed backyard from ROCKN-IT Masonry, you can take full advantage of every opportunity to spend time outside. The beautiful weather in Salt Lake County, Utah County, Davis County, and Weber County is the perfect reason to create custom outdoor living spaces. Our outdoor living space design options are plentiful, with an array of styles to suit every unique preference.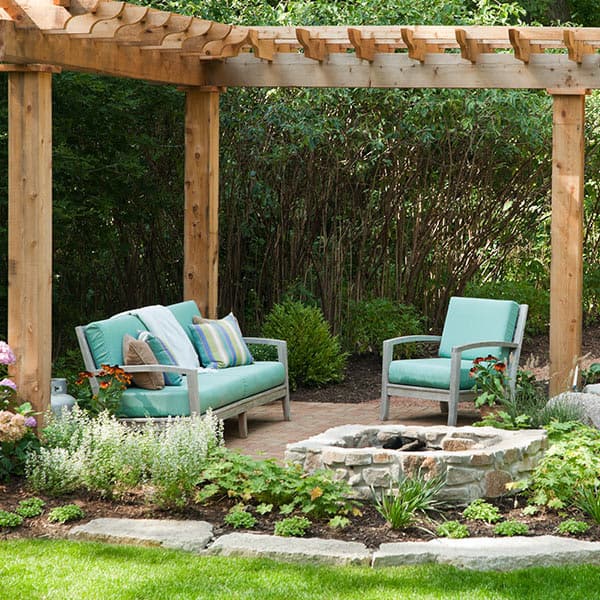 The Importance of Your Outdoor Living Space
Outdoor living spaces are a vital extension of your home, providing a safe space for relaxation, entertainment, and connection with loved ones and the beautiful outdoors. A well-designed and maintained outdoor living space can amplify your home's value and bring functionality and comfort to your life.
Value-Adding Outdoor Living Designs
The possibilities for entertaining and relaxing are endless. From family dinners to outdoor cooking with air filled with laughter, ROCKN-IT Masonry goes above and beyond to enhance the value of your outdoor area with unrivaled outdoor design elements. Our outdoor living spaces will make you feel like you've stumbled into a resort in your own backyard.
Outdoor Living Designs By ROCKN-IT Masonry
Whether you're interested in hosting get-togethers or carving out a space just for you, ROCKN-IT Masonry is in the business of making your outdoor living designs a reality. We offer an array of outdoor fire features as well as masonry work to amplify the appeal of your outdoor living spaces.
Brick and Stone Planter Boxes
Add a touch of natural beauty to your outdoor space with a brick or stone planter box where you can grow your favorite flowers, herbs, or vegetables. Stone or brick planter boxes can be designed to accommodate any aesthetic from a sleek, modern appeal to a rustic, traditional flair and beyond.
Pizza Ovens
Take your hosting abilities to new heights by adding a brick or stone pizza oven to your backyard. An oven is the perfect centerpiece that provides endless entertainment as you make homemade pizza with your loved ones under the stars. Rely on our experts to provide you with a high-functioning pizza oven that adds performance and value to your space.
Seating Solutions
Outdoor seating solutions are essential in uplifting the atmosphere of your home's outdoor space. Leave it to our professionals to design stylish brick or stone built-in seating solutions that are custom designed to suit your specific preferences and needs.
Privacy Walls
Your outdoor space is your private oasis, and you deserve the intimate sense of seclusion that a privacy wall brings. Privacy walls can be used to eliminate noise while also providing you with an elegant focal point that provides a decorative element to your space.
Outdoor Fireplace
Perhaps the most appealing outdoor addition and the best way to bring the family together is a personalized outdoor fireplace by ROCKN-IT Masonry. Our outdoor fireplace designs are versatile, with styles ranging from traditional to modern, with many material options available to suit your functional needs and style desires.
Stone Patios
ROCKN-IT Masonry is the leader in masonry work, and as such, we extend our skill toward offering our clients exceptional outdoor masonry work, including our stone patio designs. Whether you need a patio created or want to expand an existing patio, our experts have the expertise and know-how to get the job done right for beautiful results!
Installation of Outdoor Living Spaces
Our outdoor living space design begins with our customer's vision. We work with you to understand your ideas, timeline, and budget in order to curate the most effective plan of action using the highest quality materials and most trusted techniques, ensuring glowing, durable results that bring you joy for years to come.
Choose ROCKN-IT Masonry for Your Outdoor Living Space Design
From small projects to elaborate backyard builds, we prioritize excellence. Our skilled masons believe in producing the highest quality work and don't skimp on attention to detail. Every team member is committed to providing superior customer service from the first interaction until your project is complete.
Contact Us to Personalize Your Outdoor Living Spaces
Don't let another summer pass you by without the exceptional masonry work and outdoor living space design provided by ROCKN-IT Masonry. Experience optimal living in your backyard this summer by contacting our experts to discuss your ideas and request your free service estimate.
Get a Free Estimate on Your Home Improvement Project