Skip to Content
Let ROCK'N-IT Masonry Enhance Your Outdoor Living
Experience the Seasons in an Outdoor Living Space
When the weather is sunny, mild, and inviting, no one wants to be inside. With a beautifully designed backyard from ROCK'N-IT Masonry, you can take full advantage of every opportunity to spend time outside. Our work is done with stone and brick, providing you with durable, attractive features that you can enjoy for years. From built-in barbecues and fireplaces to elegant stone patios, our work will increase the useability of your backyard as well as its aesthetics. You extend your living space when you work with us to create outside areas for cooking and gathering together. Let us take the blank slate of your backyard and transform it into a space you'll never want to leave.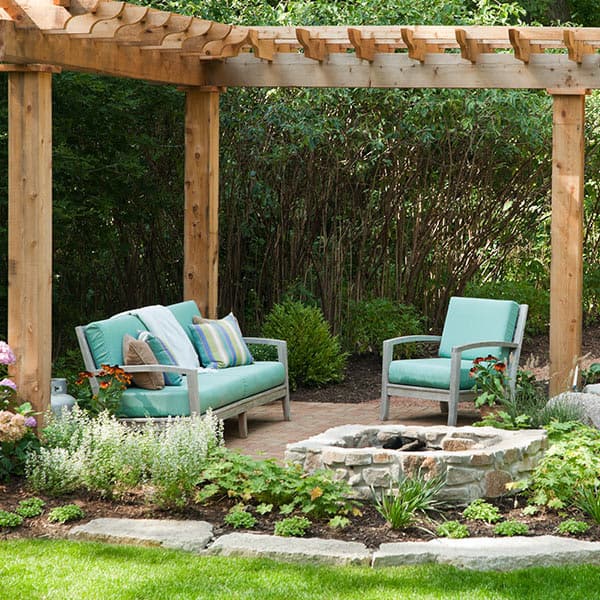 Outdoor Living Options From ROCK'N-It Masonry
An outdoor living space designed by ROCK'N-IT Masonry will make you feel like you've stumbled into a resort in your own backyard. The possibilities for entertaining and relaxing are virtually endless. Think about the family dinners you can host, with your favorite recipes simmering on the outdoor kitchen's cooktop, the air filled with laughter and the smell of good food. Perhaps you're thinking about an evening for two next to a cozy fire pit, with the stars twinkling above. Whether you're interested in hosting get-togethers or carving out a space that's just for you, we can help make your dreams into reality. Some options we offer include:
Outdoor Fire Pit – Bring one of the best parts of camping to your backyard with a fire pit. Everyone enjoys gathering around a fire to make s'mores, warm their hands, and watch the fire.
Outdoor Fire Table – This feature is a stunning addition to any backyard. Ideal in areas where space is limited, fire tables not only provide a focal feature, but also useable table space.
Outdoor Fireplace – Nothing brings the family together like gathering around a fireplace. Our outdoor fireplaces range from traditional styles to modern designs, with a wide range of options available.
Outdoor Torch – Amplify your outdoor lighting with an outdoor torch. These fiery features can be added to posts, pillars, or walls.
Contact us for details about the outdoor spaces we can create. Don't let another summer go by without looking into ways to maximize your backyard
Professional Work That Meets the Highest Standards
When we're working on a project at a customer's home, we're always aware of how important our work is. The backyards we help build are places where families gather, where people spend precious time together. From the smallest projects to the most elaborate backyard builds, our team prioritizes excellence every time. Our skilled masons believe in producing the highest quality work, and they don't skimp on attention to detail. Every member of our team is committed to providing superior customer service, from the first time we speak with you until your project is complete.
Contact ROCK'N-IT Masonry
If you live in the northern Utah counties of Weber, Davis, Salt Lake, or Utah and are thinking about expanding your backyard, contact ROCK'N-IT Masonry to ask for a free estimate. We'll help you take your backyard to the next level.
Get a Free Estimate on Your Home Improvement Project