Skip to Content
High Quality Earthquake Damage Repairs in Weber, Davis, Salt Lake & other Utah Counties
Brick, Rock, & Stone Repair for Your Structure
Natural disasters like earthquakes can cause significant damage to all sorts of homes, buildings, and other structures. The damage affects the appearance of your brick, stone, and rock, and it can endanger those around it by compromising its structural integrity. A brick wall that's sustained cracks and breaks from the shaking ground may fall apart, and the same can happen with a stonework fireplace, chimney, and mailbox. ROCK'N-IT Masonry has years of experience performing earthquake damage repair throughout the communities in Weber, Davis, Salt Lake, and Utah County, UT. We understand the impact earthquakes have on brick and stone walls and features, as well as the risks of their damage. Collapsed stone features, cracked bricks, and crumbling mortar require our professional attention to ensure their repair and restoration, even when the repair needs seem minor. We're well-versed in the repair techniques and materials necessary to safeguard your masonry investment, as well as your family and neighbors' safety.
Common Causes of Earthquake Masonry Damage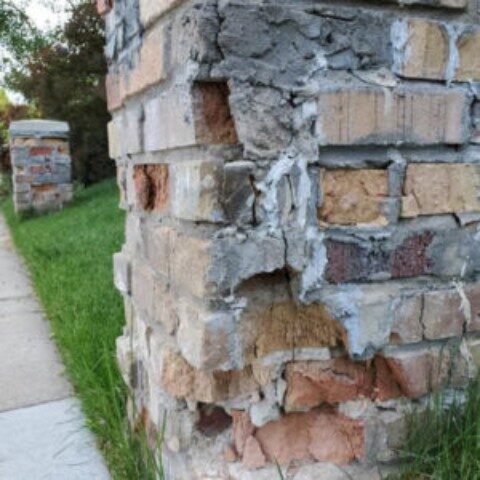 While ROCK'N-IT Masonry always performs every masonry job with the utmost concern for quality and long-lasting results, damage can still occur during an earthquake. Many elements can allow further damage that requires professional brick, rock, and stone repair, including the following:
Poor Mortar – If a load-bearing wall is built using poor-quality mortar, it will have low shear strength and tensile strength. This weakness will result in masonry wall failure during an earthquake, which leads to the masonry units disintegrating and the structure's floors losing support.
Weak Load-Bearing Walls – Double-diagonal shear, or X cracking is a common weakness of unreinforced masonry walls, and many buildings sustain significant damage like this during an earthquake. The triangular sections of an X crack can become unstable, which can lead to a wall's collapse.
Weak First Story – If the masonry unit's materials are of poor strength and the masonry has limited ductility capacity, the unfortunate circumstance can be a weak first story. This problem can result in substantial damage to your structure when an earthquake occurs.
Wall Openings – When the positions and sizes of wall openings are asymmetrical, the unreinforced masonry can fail when the ground shakes. We know that by minimizing these openings and keeping them regular, it improves a structure's earthquake resistance.
Connections of Crossing Walls – A seismic-resistant masonry structure will have properly interlocked corners for better out-of-plane strength. Unconnected intersections are more prone to failure in an earthquake, resulting in a structure suffering more damage or collapse than those with sufficient overlapping at the corners.
Quality Masonry Repairs Following an Earthquake
Getting your brick, stone, and rock features professional repairs following an earthquake is essential to preserving the safety and comfort of your home. ROCK'N-IT Masonry is well-equipped with ample industry expertise and specialized masonry tools and equipment to repair and restore your structure's brick and stone work. While the damage may seem overwhelming, it's repairable, and our highly-skilled masons will complete it quickly and thoroughly. We make sure your masonry work gets our attention to detail and careful craftsmanship to ensure it gets its best appearance and matches the aesthetic of your home. With prudent workmanship, our team also makes sure every repair gets high-quality and long-lasting results. You need your masonry to reflect your structure's beautiful aesthetic and be durable enough to withstand the inclement weather of Utah's changing seasons. With ROCK'N-IT Masonry, you get top-tier stone and brick work without the sky-high prices.
Types of Brick, Stone & Rock Work We Repair
ROCK'N-IT Masonry's expertise in brick, stone and rock projects extend to various structures and features throughout your home's interior and exterior. We install these masonry features with expert precision and thoughtful planning to ensure their longevity, durability, and appearance. When we repair them, our goal is to restore them to the same quality or better by using outstanding materials and proven masonry techniques. After an earthquake has damaged your brick, stone and rock we're available to repair it on a wide range of areas around your home, including the following:
Walkways
Exterior Siding
Pillars
And Much More
Get in Touch with ROCK'N-IT Masonry
The masonry team at ROCK'N-IT Masonry looks forward to hearing from you about your brick and stone projects. We know the stress an earthquake can cause during and after the ground shakes, and the damage to your structure can seem daunting. We'll make sure your brick and stone get the expert care and repairs they need to restore them to their former beauty and integrity. Give us a call when you need high-quality earthquake damage repair.
Get a Free Estimate on Your Home Improvement Project