Skip to Content
New Masonry Construction in Weber, Davis, Salt Lake, and Utah Counties
We Provide Versatile New Masonry Construction
When you're ready to add new masonry construction to your home, there's only one company to rely on. ROCK'N-IT Masonry is here to provide you with an exceptional new home exterior. Our knowledgeable and experienced masons will work with you to enhance the appeal and value of your home, leaving you with stunning results! We proudly offer our services throughout Salt Lake County, Utah County, Davis County, and Weber County.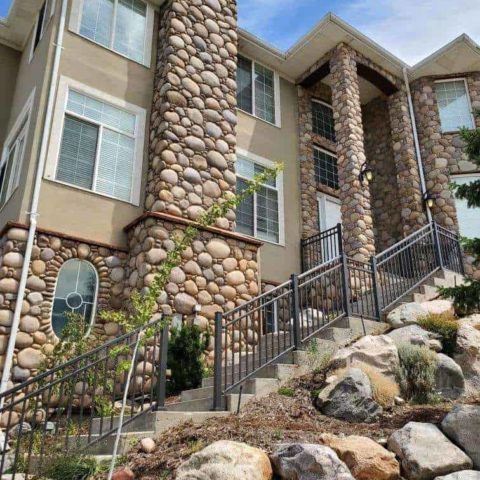 Masonry Home Construction Process
Our contractors will guide you through the entire process, from selecting the stone to sealing it for a stunning transformation that is sure to impress you. Our team ensures that you feel comfortable and informed while we work on your home, treating it with the utmost care and precision for an optimal masonry home construction experience.
Personalized Masonry Work
At ROCKN-IT Masonry, we offer an array of masonry options to match your vision for your home. A rock, brick, or stone exterior are premium construction choices that increase the value of your home while adding unrivaled aesthetics. From modern to traditional and everything in between, ROCKN-IT Masonry has you covered with quality materials.
Cultured Stone
We offer cultured stone as a material for your new masonry construction. Cultured stone is engineered to mirror the appearance of natural stone without the costly price tag. It is lightweight, flexible in design to suit various styles, and an eco-friendly choice for your home.
Natural Stone
If you're one to stick with the classics, we offer natural stone, rock, and brick for our new masonry construction projects. These building materials are extremely durable and long-lasting, offering less size and shape flexibility. However, natural stone does come in many colors and is more resistant to fading for an extended glow.
The Longevity of New Masonry Home Construction
Unlike other manufactured materials such as wood shingles and vinyl, brick or stone can withstand the elements, providing long-lasting protection for your home. As a local leader in masonry work, we have a cultivated relationship with some of the area's trusted suppliers to provide our customers with the best quality product available for masonry wall construction and masonry construction projects of all types.
Protecting Your New Masonry Construction Investment
Once your new masonry construction has been completed, we will come back to coat it with a sealant to protect it against daily wear and tear and the elements to ensure it stays flawless for the long haul. We guarantee that all of our stonework is installed by experienced contractors using industry-leading products.
The Benefits of Masonry Home Construction
Masonry home construction opens the door to a range of unparalleled benefits, including:
Enhanced strength and durability
Energy efficiency
Minimal maintenance
Attractive appearance
Environmentally sound
Long-lasting
Trusted Masonry Services
At ROCKN-IT Masonry, we offer more than just new masonry construction. We offer several leading masonry construction type services that are designed to preserve the integrity of your current masonry work, including:
Brick and stone restoration
Brick and stone maintenance
Masonry demolition work
Masonry maintenance
Pavers
Choose ROCKN-IT Masonry for Quality Results
ROCKN-IT Masonry has been a leader in new home masonry construction for years, helping Utah homeowners enhance their homes with gorgeous brick and stone exteriors that withstand the test of time. We go the extra mile to ensure each project is completed promptly, within budget, and performed by courteous professionals who value your investment.
Contact Us to Discuss Your New Masonry Construction
When it comes to your home, you don't want to settle for anything less than the best. That's why homeowners in Salt Lake, Utah, Davis, and Weber Counties choose our team for their new masonry construction. Make your home's exterior a beautiful showpiece by contacting us to receive a free estimate.
Get a Free Estimate on Your Home Improvement Project