Skip to Content
Marble Installation in Weber, Davis, Salt Lake & other Utah Counties
Fireplace Surrounds in Weber, Davis, Salt Lake, and Utah Counties
Specializing in High-End Marble Installation
Your home is an investment that surpasses financial value. It's the place where you and your loved ones make memories with graduations, holidays, anniversaries, and other special occasions. Even your regular daily life at home can hold intrinsic value with story time before bed and backyard barbecues in the summer. With an investment closely tied to your happiness and well-being, it makes perfect sense to add custom touches that add warmth and beauty to your domestic surroundings. ROCK'N-IT Masonry offers high-end marble installation to homeowners in Weber, Davis, Salt Lake, and Utah Counties. We add a look of class and elegance with expertly installed fireplace surrounds, doorway surrounds, and other marble features. Our team of masonry professionals applies years of experience and sharp attention to detail into every project, so you can enjoy quick and efficient upgrades to your home with quality that lasts. Whether your project is big or small, you get our outstanding expertise and craftsmanship at a friendly price.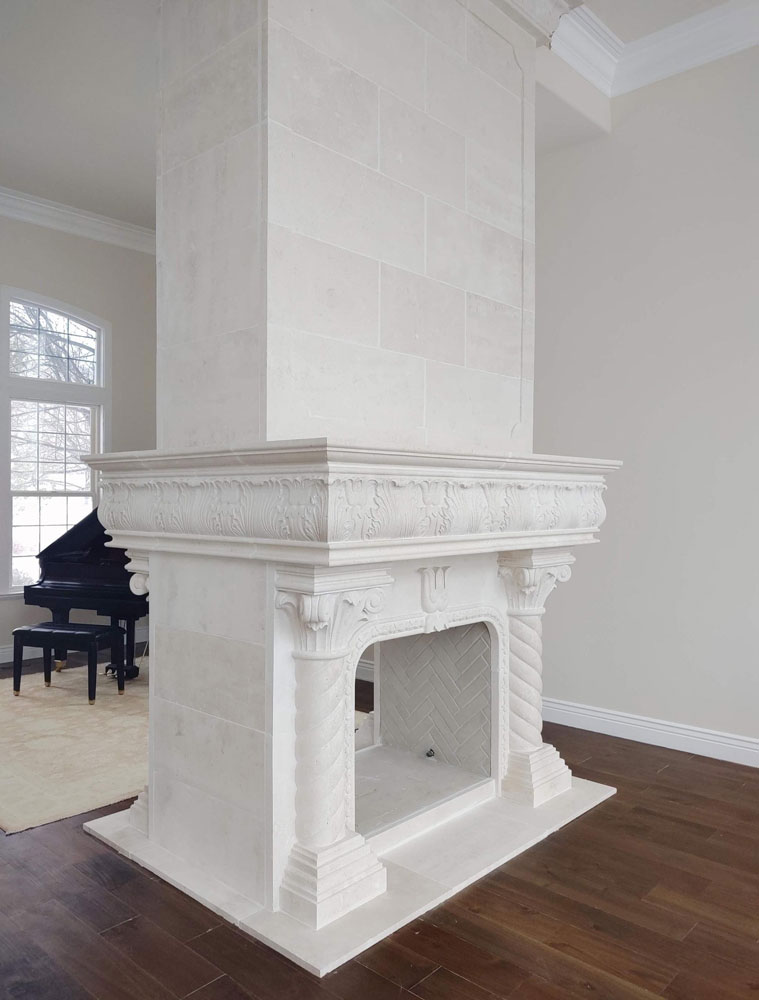 BEAUTIFUL MARBLE FIREPLACE SURROUNDS IN YOUR HOME
There's nothing more stoic and inviting in your home than a glowing fireplace with a beautiful mantel and surrounding stonework. The light of the flames catches along the curves and edges of marble while the mantel above supports anything you desire to personalize the room, from family pictures to candles and ceramics. ROCK'N-IT Masonry understands the importance of getting a fireplace surround that lives up to the investment, and we make sure our craftspeople deliver a professional product installation. We take the time to discuss your vision for your fireplace so that the finished design matches your style and budget. You can choose the type of marble you want for your installation, including intricate and alluring options like Italian marble, beige perlato, and even black marble with intricate white veins streaking the surface, including hand carved marble with unique designs. After selecting the marble, we work with you to decide on the style and design of the mantel and other stonework. Your fireplace surround is a personal endeavor, and we ensure you get a final product you can proudly show off at your next dinner party or holiday gathering.
ADD ELEGANCE TO ROOMS WITH DOORWAY SURROUNDS
Your doorways shouldn't be neglected when you upgrade your home with distinguishing stonework. Adding marble doorway surrounds to your home's exterior and interior entries can add value and elegance you and your family will enjoy every time you come home and move through the house.ROCK'N-IT Masonry has a team of stonework experts who specialize in beautifying your doorways with custom marble surrounds tailored to your aesthetic tastes. Whether you want a sleek, modern look or a classically sophisticated homage to historical architecture, we offer quality craftsmanship using top-tier selections of marble. There are countless colors and styles of doorway surrounds you can choose, and our masonry team will work with you to figure out the marble type, cut, and design features you want to incorporate in the finished product. We want you to be completely satisfied with the stonework we provide. Some examples of popular doorway surrounds include the following:
• Classical Designs
• Neo-Classical Doorway Surrounds
• Grotto-Style Designs
• Romanesque Doorway Designs
Many Types and Colors of Marble, including:
• Italian Marble
• Carrara Marble
• Emperador Marble
• Crema Marfil Marble
• And Many Others
BENEFITS OF UPGRADING YOUR INTERIOR WITH STONEWORK
Upgrading your home with elegant marble doorway and fireplace surrounds gives it a unique and upscale appearance. Marble offers a variety of benefits as a masonry material, including the following:
• Durability – Marble is a product of limestone, which is comprised of ground-up seashells from the ocean floor. Over time, the rock is subjected to elements like massive pressure and heat, which create a very hard and durable material. When skilled masonry professionals like us install marble surrounds, they stand up to years of use and the heat from fireplaces.
• Fits All Décor – Marble is a timeless stone choice that fits every style of design, no matter the time period or regional influence. A fireplace mantel is found in the history of various civilizations, from Middle Eastern to Northern European to early colonial American. Marble's integral use in design follows into the present with modern architecture and décor.
• Wide Variety of Colors – There are dozens of varieties of marble with astounding color variations. You can find deep burgundy tones, pearly pastels, black, rose, beige, and even blue-streaked marble. These unique streaks and color variations make it a versatile stone that you can integrate into countless room designs.
• Ornate Carving Options – While marble is a very hard and durable stone, it's still softer than other options like granite. Because of its reasonable softness, a mason can further customize its appearance by carving a sculpting intricate features into the rock, such as scrollwork, patterns, and images.
CONTACT ROCK'N-IT MASONRY FOR STONEWORK IN WEBER, DAVIS, SALT LAKE, & UTAH COUNTIES
Make a statement with your décor by using marble, and personalize your home, so it's comfortable for you and your family. ROCK'N-IT Masonry can help you elevate your space with beautiful and durable high-end marble installations. If you desire a fireplace surround or doorway surround in your home, give us a call to discuss your masonry needs with a member of our staff.